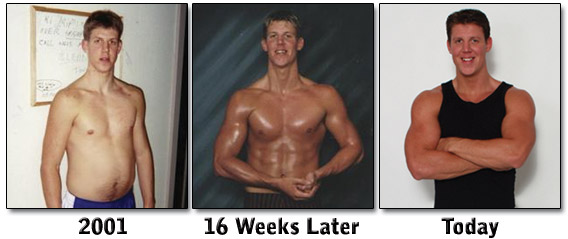 Hey, it's Joel!  So you want to know a little about me, huh?  Well, I'd be happy to oblige :-)
I guess it all started back in 2001 (my freshman year of college) when I was just a "skinny fat" 19-year old kid.  At the time, I was spending close to 2 hours a day in the gym (now my workouts last about 30 minutes), and despite my efforts, you'd probably never guess I worked out a day in my life by looking at me.
Lots of effort; very little to show for it.  Pretty frustrating, and perhaps you know what that's like (i.e. it sucks).
So, after a while of getting close to nowhere, I decided to hang it up and figured the whole "having a body I can be proud of" thing just wasn't meant to be, or at least not for me anyway.
Fortunately, not too long after that a friend of mine introduced to me to a guy named Anthony (well, his website anyway), and after going through many of his articles and some of the other content he recommended, I realized I was doing A LOT of things wrong.
Here's a newsflash:  the dumbed-down fitness and diet info you see in the mainstream media does not work.
Anyway, this was all going down right at the start of spring semester.  Before long, I knew everyone would be busting out their beach bodies for summer, and I was determined that I wouldn't be hiding behind a t-shirt at the Jersey Shore (again) that year.
So I began reading even more, learning even more, and applying even more.  And then I made perhaps the best decision of my entire life, and I hired Anthony to coach me personally.  It wasn't an easy decision; I mean, I was a college kid without much extra cash and Anthony wasn't exactly cheap.
But, here's the thing:  this was a guy who had already accomplished exactly what I wanted to accomplish (with regular, normal genetics just like me), and I knew that if I was going to REALLY make a change — a true transformation — I needed to enlist the help of someone who had "been there, done that".
And thank God I did.
In addition to getting myself a coach, I decided to enter an official "Body Transformation" contest for extra motivation.  Now, let me just say that this wasn't just any transformation contest, it was the BIGGEST transformation contest in the world at the time (and still is today) — the Body-for-Life Challenge.
A bit ambitious, I know, but what happened next was pretty incredible.
Over the course of the next 16 short weeks, I was able to lose nearly 20 lbs of ugly body fat while gaining just over 20 lbs of lean, calorie-burning muscle — and get this — I did it while spending  no more than 40 minutes in the gym, 3 days a week.
Can you friggin' believe that?!
I was able to accomplish THAT kind of transformation in just 120 minutes per week, when before I was spending 120 minutes per day in the gym, all while getting nowhere.
How the heck does that happen??
You know, it's really quite simple to understand when you think about it.  Before, I had no clue how to get where I wanted to go, so I spent a lot of time "in the car" driving around without actually getting any closer to the final destination.  In fact, if we're going to use the car analogy, I don't think I ever got more than a couple hundred yards away from home.
Then I got a mentor.
Then I got my learn on.
Then, and only then, was I able to follow a roadmap that went directly from point A (where I was at) to point B (where I wanted to be) instead of driving all over the god-forsaken state of New Jersey.
And oh yeah, I won the contest.
You see, if you're going to get anywhere in life, it's not very likely that you're simply going to find your way all by yourself.  And even if you do, you'll likely waste a lot of time wandering around the desert for 40 years like Moses and the Israelites before reaching the good ol' Promise Land.
I say that to say this — get a mentor.  And if you're not quite sure where to find one, you've come to the right place because we offer a kick-ass coaching program.
Now, if you're not quite ready for that type of commitment, at the very least, get yourself a Gravatar, post some comments, and become a true part of what we're doing at this site.  This site was built for you, and for one reason:  I want to see you succeed.  And I want you to do it without wasting any more time and effort "driving around".
So that's my story :-)  And frankly, I can't wait to be part of yours.
See you 'round the site!
Joel
P.S.  Oh!  Almost forgot — if you were hoping for a more conventional type "bio", here goes:  Since 2001, I've been featured in just about every magazine and website the fitness industry has to offer.  I won't bore you by listing them here, but if you've ever picked up a newstand health & fitness mag, you've probably read one of my articles.
I've also done the TV and radio thing more times than I can count, have an honors degree in Exercise Science from one of the absolute best programs in the U.S., have successfully coached more than 1,021 people in more than 30 countries from "zero" to "hero", and am certified as both a personal trainer and sports nutritionist by the industry's leading certification agencies to boot.
More importantly, I love cereal, can't get enough South Park and Family Guy, hate to love the Philadelphia Eagles (someone fire Andy Reid already), and in my spare time enjoy reading (which I absolutely hated until just a couple years ago), catching the latest flick at the movies (love Denzel Washington), and just hangin' at home with my family, friends, and two dogs.
To stay on top of what I'm doing and for even more body-changing tips, you can connect with me on Twitter.
And last but not least, shoot me a friend request on Facebook!
So, that's me :-)  Now, get yourself over to this post and tell me 2 things about you.